Oh, how the turntables.
Back during the WJC, I wasn't as vocal of a supporter for my nation as I should have been. I'll take that one on the chin. Fellow writer Jack Gotsell didn't mince words, calling me things like a "disgrace to my country."
Jack may not be an avid NFL fan, and neither am I. However, the amount of incompetent bullshit that came out of this man's mouth over the course of this year's season is mind-boggling. So much bullshit, that Tarps Off Sports had to make a compilation.
TW: Extremely satisfying
Well #TomBrady legit retired @JackGotsell from our #NFL Coverage. He is the worst NFL analyst in history we can't have this anymore😂. Watch this absolute FAIL 😂😂👊💀#SuperBowlLV #SuperBowlWeeknd #NFLTwitter #SuperBowlMVP #Bucs #bucaneers #Football #CancelTarpsOff #DOGE pic.twitter.com/yV6onxwQrE

— Chris Mancuso (@cmancuso9797) February 8, 2021
You would never guess it, but this man is a New England native (to be fair, the part of New England where no one lives). You would think this man wouldn't be stupid enough to bet against the man that brought this sub-nation so much pride for two decades? He never gave up, pleading on his knees behind the scenes for this Brady domination to one day stop. Unfortunately for Jack, it doesn't look like that day is coming.
To be fair, he's an Alabama fan too, so no wonder he doesn't know what a good QB is.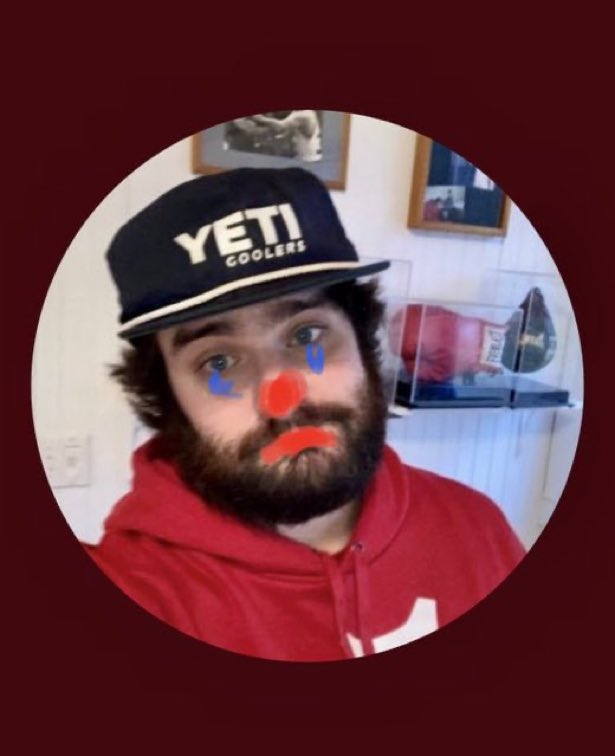 This is the only picture fitting for the clown that slandered Brady's name. This man is 10x worse than Max Kellerman, which is saying a lot. At least Max owned up to his loss and admitted he was wrong. If Jack is for the people, I call for a public apology video where he declares Tom as the 🐐 he is, and that he is the worst NFL "analyst" of all time.
Also just want to throw this other god awful take in here, when Jack thought the league-worst Jets were going to beat the Oakland Raiders and was surprisingly incorrect:
Although Jack was definitely the worst with his Brady slander (and dialogue in general), I don't want to let anyone go unnoticed. When someone speaks badly on Tom's name, I'm coming for heads.
Awful Team Predictions
Just to clarify:
Bugzy bet against the GOAT 3/4 times
McMuffin bet against the GOAT 3/4 times
Jack bet against the GOAT 3/4 times
Jeanner bet against the GOAT 2/4 times
Mancuso bet against the GOAT 1/4 times
Guess how many times I bet against the king? I'll give you a hint: it's the same number as Playoff Prediction rings Gotsell has: ZERO.
It doesn't really aggravate me that Bugzy was as stupid as Jack, but only because he's from Ohio and I understand it's tough to understand what winning is like over there. Although, he did say Jameis Winston could've won that game last night. But unfortunately, he was sitting on his couch with his thumb up his ass, wondering why he would ever leave Tom Brady to play under Drew Brees. Sucks to suck!
A lot of my beef resides with McLovin's disloyalty. He claimed on a multitude of occasions that although he still rooted for Brady, he couldn't vote for his team to win.
I call that the pussy way out.
I don't care who the fuck the Buccaneers are going up against, when Brady has given you a lifetime of excellence, you die with that man on whatever hill he chooses. And if (when) he ends up making it out alive, you continue to bask in that glory. This was a two-faced move, and I would like an apology from McLovin as well for the disrespect.
Mancuso didn't match my excellence, but he would've looked a lot better if he didn't try to fade my Super Bowl pick. When the man is 11-1, you should probably listen.
King Germano has a nice ring to it 👑

This win is for you @TomBrady pic.twitter.com/1KGGYQ7qYv

— Nick Germano (@NickCGermano) February 8, 2021
I appreciate Jeanner for realizing the Super Bowl pick was an absolute lock, but Shaquil Barrett MVP? I would've guessed Ronald Jones II before him!
In conclusion, McMuffin and Gotsell are dead to me until further notice. King Germano has never felt better and will be basking in his glory until he is forced to stop. I'm taking this one to the bank, and can't wait to watch Super Tom go for #8 next season.